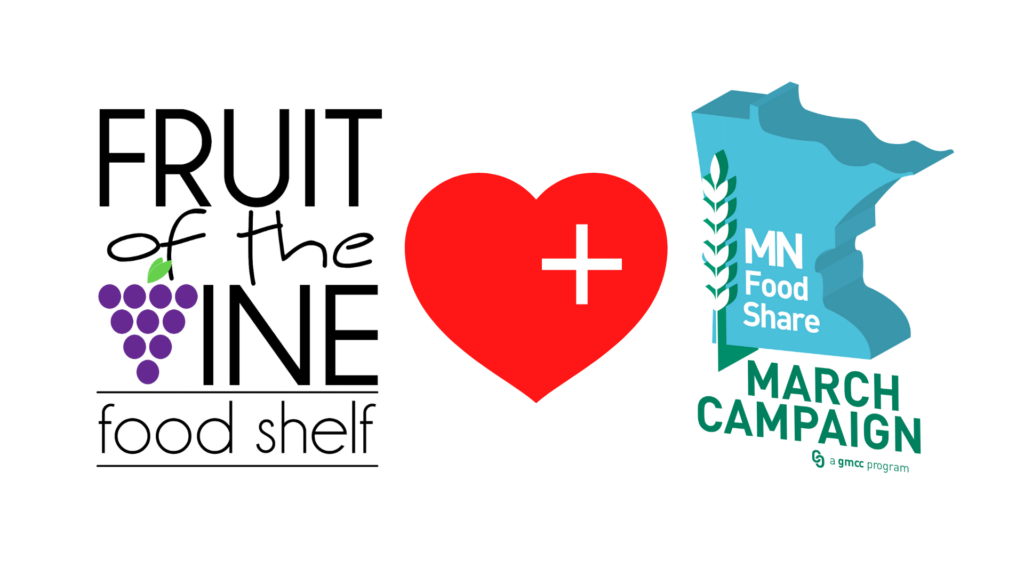 We are well into the Minnesota March FoodShare Campaign and wanted to update you on how we are doing and how you can help.
The Fruit of the Vine Food Shelf has been serving the public since 2007 and comprises of a diverse group of experienced food shelf operators and volunteers. Last year, we served 5,939 households, or 18,523 people with 479,733 pounds of groceries. This year with the state of the economy and recent SNAP benefit changes we are experiencing an even greater need.
To meet this growing trend, our food shelf is planning to increase our access by opening new hours of operation and expanding partnerships. Starting in April the food shelf will double our open hours with a new distribution on Tuesday afternoon to evening. Additional openings are planned in the coming month.
You can assist before April 9th by financially donating by clicking the button, or donating non-perishable food products at our food shelf (1280 Arcade Street, Saint Paul)  on:
Tuesdays, 6pm to 8pm
Wednesdays, 6pm to 8pm
Fridays, 9am to 1pm
Saturdays, 9am to 1pm
Sundays, 11am to 2pm (Lower Fellowship Hall)
One other way you can help us is by volunteering. If you would like to join our excited group, click the button below or email [email protected].
Please consider donating to our food shelf, this is a critical time of the year as we serve the mounting demand, prepare for summer and meet the increasing costs of doing business.
This summer, look for our bulk produce giveaways.
How Can You Help?
If you are looking for a way to help our community below are a few suggestions. You are not limited to only these. If you have other ideas, please do not hesitate to call and share your idea with us. We would love to help you help us.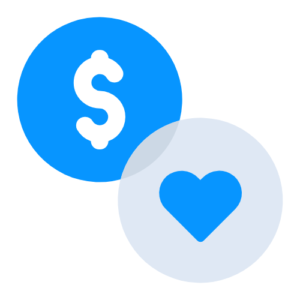 Consider donating to us. A cash donation can be done quick, easy, and secure, online, by visiting the donation page of our website by clicking here. Once there, you will find additional information on how you can give using PayPal, mail, in person, or over the phone.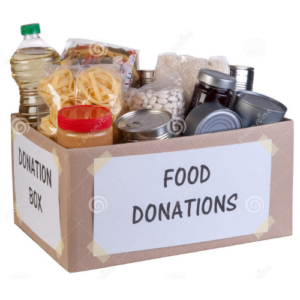 Consider running a food and fundraiser for FOTV through your place of work, place of worship. or club. Often businesses and churches are looking for a local charity to donate to, or a way to give back to the community. We have a tool kit of items to help below.
Food Drive Instructions and Suggestions

Food Shelf Current Needs

Donate Food Here Sign English

Deja artículos de comida aquí. Español

Poster Stretch Your Donation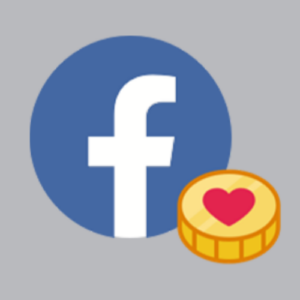 Consider running a fundraiser for us on Facebook. This can be done easily from your personal Facebook profile. Your fundraiser can run February 28th to April 10th. Please report your personal fundraiser earnings on or before April 10th. We need proof of the earning for it to be counted toward the campaign and qualify for the match. This can be done by taking a screen shot of the earning page and texting or emailing it to us. (952-595-5980) or email

[email protected]

It is essential that we receive this proof because it will take up to 45 days for Facebook to process the donations and issue a check to the food shelf.
Setting Up a Facebook Fundraising Campaign
Log onto your Facebook page on a PC.
To the left, you will see a menu. Scroll the menu for the word "Fundraiser" and click it.
Then click "Select Nonprofit"
Then Type "Vineyard Community Services" and click the corresponding organization in the dropdown box.
A fundraising campaign will open, and the fields will be populated with information about Vineyard Community Services. You can customize all the fields. Remember, the March Campaign goes from February 27, 2023 to April 9, 2023
Once you have it to your liking, click "Create"
Invite all your friends to participate and share it.