Fruit of the Vine Burnsville
Last Wednesday April 3rd, the South Metro Vineyard Church notified Vineyard Community Services ("VCS", the Fruit of the Vine Food Shelf in Burnsville) by Email that the facility would be closing on Monday April 8th to allow construction. The effected area includes the food Shelf packaging and sorting areas and our pantry fulfillment room. This damage was caused by water from the recent Spring breakup. Mold was also found in the effected walls which makes the occupation of these areas unsafe.
The construction period is reported to be 8 weeks ending around the start of June. VCS will update the public by our website, email and Facebook posts as information becomes available.
Thank you for allowing our community to serve you over the past twelve years!
Fruit of the Vine Saint Paul
Now open at First Covenant Church of Saint Paul which is located at 1280 Arcade Street in Saint Paul, MN. We are open Saturdays from 9am to noon. The Food Shelf is a partnership with the ministry of La Vina de Saint Paul Church.
Come join us and shop through the 'client choice' selection of nutritious foods.
Senior Services
The Fruit of the Vine Senior Services Program is dedicated to providing services that enable area seniors to remain independent and to continue living in their own homes for as long as possible.  We are committed to providing nutritious food support to seniors caught in the gaps of poverty.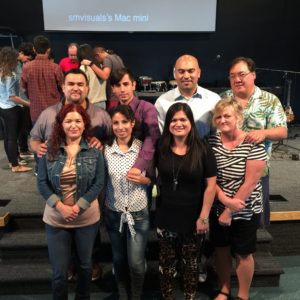 ESL Classes Starting Soon
Our Neighbors at La Vina and the Fruit of the Vine are welcome to join our upcoming ESL classes as we learn to speak English as a second language and vice versa, learn to speak Spanish.
Are you interested in serving the homeless community in Saint Paul, join our volunteer team by contacting our Program Coordinator by clicking the button below.
Next Steps…
Here at Vineyard Community Services we have some easy steps on how you can get connected. The cool part about our organization is that everyone gets to play! There are numerous opportunities to connect and make new friends. You can volunteer during the week, or attend upcoming events, fundraisers and so much more.