Minnesota FoodShare March Campaign – DONATE NOW
Minnesota FoodShare's March Campaign is the largest annual food drive in the state and your best time to invest in healthy food support for families.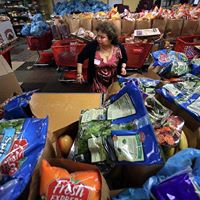 Every donation of money or food made to Vineyard Community Services and our Fruit of the Vine Food Shelves located in Burnsville and Saint Paul during March will qualify us for matching grant money from Greater Minneapolis Community Connections (GMCC), stretching your donation dollars. Our goal is to raise $25,000 and 25,000 pounds of food during the month. 
This drive will help us re-supply our food shelves in time for the high demand summer months when children are out of school.
Here are ways to help:
Donate at www.vcsmn.org by clicking here. Our access to discount and bulk food programs from Second Harvest Heartland turns every dollar you donate into ten dollars of purchasing power.
Run a food or fund drive for the Fruit of the Vine during the month of March (up to April 8th) by calling (952) 595-5980 ext 111. You can also donate online at www.vcsmn.org/donate.
Tell your family, friends, neighbors and coworkers about the March Campaign and the Fruit of the Vine Food Shelves!
Thank you! Your participation in the March Campaign! will help ensure our neighbors have access to the healthy food and support they need to succeed.