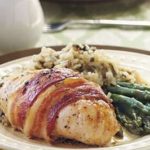 The Vineyard Community Services board of directors invites you to join us Saturday, March 24th at 6pm for the annual Spring Spree dinner theater fund raiser for the Fruit of the Vine Food Shelf. Doors open at 5:30pm. This event is centered around dinner prepared by Chef David Aguilera, entertainment from a local illusionist Larry Kohlow, along with raffles, games and a silent auction. It will be an fun-filled evening with an opportunity to support our community service organization that touches the lives of over four thousand families each year.
A CLOSER LOOK AT THE EVENING…
Dinner – 6pm
Dinner will be served 'buffet' style in our auditorium by Chef David Aguilera:
Bacon-wrapped Chicken Chicken Breast coated with herb flavored cream cheese, rolled up and wrapped in bacon accompanied by Garlic Mashed Potatoes and a bed of Asparagus with Red Peppers. Of course dessert
follows. Chef David makes a special dining experience!
Entertainment – 7pm
Illusionist Larry Kahlow will be entertaining the Spring Spree starting at 7pm. Larry is a local (Burnsville) illusionist/magician and owns the Eagle Magic and Joke Store since 1971. Yes, that's nearly five decades! His shop is known as the "Oldest magic shop in America!"
Silent Auction "Shop for a Cause" and Raffle – 8pm
Vineyard Community Services is one of the thriftiest nonprofit organizations utilizing 95.6% of every dollar donated directly to support our hunger relief services.
We need your support to maintain our services and to continue to make a difference in the fight against poverty. You can help in the following way:
Purchase your Spring Spree Event ticket HERE
Donate a product or service for our raffle and silent auction,
Become an event sponsor, or
Become a volunteer.
TICKETS AND SPONSOR PACKAGES…
$20 in advance Event Ticket (includes one raffle ticket)
$25 at the door (includes one raffle ticket)
$180 Table Sponsor (includes 10 event tickets (Meal and raffles)
$150 Table Sponsor (includes 8 event tickets (Meal and raffles)
$5 additional raffle ticket at the door
Sponsor Packages:
Elite – $1,000 – Thank you Bremer Bank!
• Table for 10
• Premium logo presence in social media (all), brochure, and marketing materials (signage and video loop)
Premier – $500 – Thank you South Metro Vineyard Church in memory of Dennis Walker
• Table for 8
• Logo presence in social media (weekly), brochure, and marketing materials
Partner – $250 – Thank you River Heights Vineyard Church!
• Table for 4
• Logo presence in social media, brochure, and marketing materials
We are eager to hear from you!  Just call our event committee at 952-595-980 ext. 111 and we will walk you through the steps to get involved.
Will you join us today and become a partner with Vineyard Community Services in the fight against hunger?  Because no one should go hungry.