Fruit of the Vine Update and Events
Dear Supporters,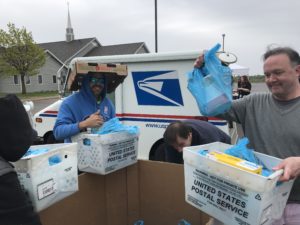 It's the summer months again when Vineyard Community Services ("VCS") asks our community supporters to consider donating to sustain our operations and take advantage of several matching grant opportunities.
VCS is operating our emergency hunger relief program called the Fruit of the Vine Food Shelf for the eleventh year! During 2017, the food shelf served 77,376 multiple visits by individuals, or 21,224 household visits. A total of 1,815,837 pounds of food was distributed, averaging 85.6 pounds per household visit. The service if founded on the strength of our volunteers and supporters like you!
During November of 2017, we also opened the Fruit of the Vine Saint Paul at 1280 Arcade Street at our partner Faith Covenant Church facility. This area is both underserved and has the highest unemployment and poverty rates in the state. The food shelf continues to grow as it serves more of the Saint Paul neighborhoods with nutritious foods.
Your donation is a crucial investment into the lives of the people we serve. Last year, 3,934 households ended services with the Fruit of the Vine Food Shelf becoming self-sufficient and no longer needing our food resources. You made the difference with your support.
We ask that you consider donating during June, July and August as we have foundational support to match your giving. The J.A. Wedum Foundation will donate $5,000 this summer based on giving as well as the Otto Bremer Trust which is providing a 1:1 match, up to $6,230! The Open Your Heart Foundation to the Hungry and Homeless is also providing a July matching challenge grant to further assist our sustainability.
Thank you again for supporting the hunger cause,  please consider donating, your gift will double the impact this summer!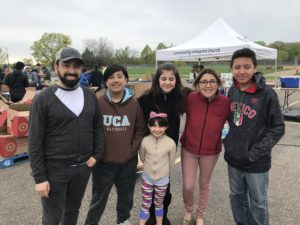 Very best regards,
Brian Geraty
Executive Director and Pastor
Join (volunteering) us and save the date at the following summer events:
May 26th at 11am-2pm Sorting Event

June 2nd at 11am-2pm Sorting Event

August 24th Fresh Produce Distribution at 3pm at 1280 Arcade Street, Saint Paul
July 9th Summer Swing Charity Golf Tournament Shotgun start at noon
September 14th Fresh Produce Distribution at 3pm at 1280 Arcade Street, Saint Paul
July 13th Fresh Produce Distribution at 3pm at 1280 Arcade Street, Saint Paul
September 28th Fresh Produce Distribution at 3pm at 1280 Arcade Street, Saint Paul
July 27th Fresh Produce Distribution at 3pm at 1280 Arcade Street, Saint Paul
October 12th Fresh Produce Distribution at 3pm at 1280 Arcade Street, Saint Paul
August 10th Fresh Produce Distribution at 3pm at 1280 Arcade Street, Saint Paul
October 26th Fresh Produce Distribution at 3pm at 1280 Arcade Street, Saint Paul