Please donate to the Give to the Max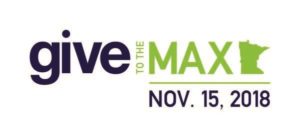 Give to the Max Day is around the corner on November 15, 2018!
This Give to the Max Day, help us build a brighter and healthier future for Minnesotans!
Let's come together to create a Minnesota where our grandparents have the peace-of-mind that comes with a full cupboard and our kids arrive at school bright-eyed, ready to learn.
Let's come together to help serve the food insecure populations of Minnesota to put healthy food options in the cupboards of those in need. Through your support, the Fruit of the Vine serves thousands of people each year!
When you donate to Vineyard Community Services and the Fruit of the Vine Food Shelf today, your donations will go to sustain food shelf operations in Burnsville and Saint Paul, Minnesota that serve over six thousand households each year.
Click HERE to link to our Give to the Max donation page.