Did you know? We're open in Minneapolis!
DID YOU KNOW? WE'RE OPEN IN MINNEAPOLIS!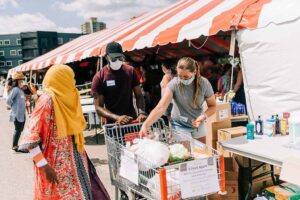 We love joining with Source to care for our community of neighbors in Minneapolis. Through regular services and additional responses to the unrest in Minneapolis this summer, Source gave over 100 tons (!!!) of food during the month of June!
Located at 2609 Stevens Avenue (the Fallout Urban Center), the Food Shelf is open on Wednesdays from 5:30pm to 6:30pm and Saturday mornings from 9:30am to 11:30am, except the last Saturday of each month. On the last Saturday of every month, fresh produce is available from 11am-1pm at the Kmart parking lot (10 W Lake Street in Minneapolis). 
More information about food distributions, as well as other resources and volunteer information can be found at sourcemn.org. You can also get in touch with Source via email at info@sourcemn.org. We are in this together!